Radio Top Tropicals Live Webcast
Listen to
Radio TT show recordings
archive

Happy customer?
We're just happy that you're happy.
If you don't know how to express your newfound joy, we've got a few suggestions...
- Tell your friends and family about TopTropicals.com
- Share your experience by writing a Google review
- Connect with us and like us at:
Facebook - Twitter - Instagram - Youtube
Not too happy?
Our friendly Customer Service team will work hard to put a smile back on your face. Here is how we can connect:
- contact form (the fastest way!)
- call 1-866-897-7957, Mon-Sat 10 am to 5 pm EST
- email
Information board
free PDF downloads:
Top Tropicals guide to late-season plants (Fall through Early Spring) in SW Florida.
Late season flowering and fruiting plants: list of fall-winter flowering trees, shrubs, vines, and late season fruit that you can enjoy during Fall-Winter season. Includes list of late season mango varieties.
Top Tropicals guide to tropical fruit trees and their cold hardiness in SW Florida.
Rare fruit trees for South/SW Florida home gardens: cold hardiness for tropical and subtropical fruit trees
Very cold hardy avocado varieties.
Cold hardy avocado - list of varieties and growing instructions
Large size plants available upon request within 10 days of order date.
7 gal, 15 gal, 25 gal size pots and larger.
Can be picked up at our local garden center, or delivered to your doorstep!
Installation available.
Most popular large size plants:
Mangos: 15g - $175, 25g - $350
Avocados: 15g - $175, 25g - $350
Longan, Starfruit, Sapodilla, Atemoya, Sugar Apple, Soursop (Guanabana): 15g - $175, 25g - $350
Jaboticaba: 15g - $200, 25g - $375
Cassias, Jacaranda, Tulip tree, Royal Pinciana: 15g - $150, 25g - $275
Delivery
<-- These prices are for plants picked up from our nursery. Can be delivered for $50 to your door (within 25 miles radius from our nursery).
Please contact us for availability and prices. Chose from complete lists of:
Flowering trees
Fruit trees
Mango varieties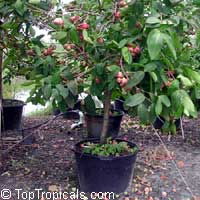 Installation and landscaping
Plants delivery - $50 within 25 miles
Tree installation
3 gal size - $20
7 gal size - $30
15 gal size - $40
25 gal size and more - $50+
Landscaping consultations - per estimate
Download landscaping info sheet