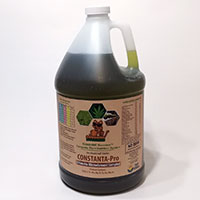 6413 SUNSHINE-Constanta PRO - Micro-element Plant Nutrition Booster, 1 gal
For hydroponics and greenhouses, Fertilizer license # F002866. Constanta Pro is the most complete, micro-element supplement, a part of the Complete Nutrition System PRO for Hydroponics and Greenhouses, for daily feeding. It can be applied through irrigation injectors or by hand-watering.
Constanta contains MgO, Fe, Mn, Zn, Cu, B, Mo, Co, SO3 with amino acids. It fully meets plant needs for trace elements and is intended for continuous use to maintain plants healthy and strong.
The special formula for irrigation provides for all plant microelement needs. Suitable for daily watering of potted or in-ground plants, trees, and greenhouses.
Sunshine Constanta contains trace elements in combination with amino acids and organic acids - the best nutrition for your plants. The composition does not contain synthetic chelators - ETDA, DTPA, HEDP, which can accumulate in the soil.
DIRECTIONS: Mix 2 ml with 1 gal of water. This product is intended to be used as a part of the SUNSHINE™ Complete Nutrition System. Do not mix with other concentrated fertilizers.
Derived From: Potassium Carbonate, Magnesium Glycinate, Iron Glycinate, Manganese Glycinate, Boric Acid, Zinc Glycinate, Copper Glycinate, Ammonium Molybdate, Cobalt Glycinate.
Element Content: K2O, S, Fe, Mn, Mg, B, Zn, Cu, Mo, Co
Color of the concentrate may vary from yellow-green to brownish which does not affect product quality.
Guaranteed Analysis (PDF)
This item may be shipped separately from plant items, with arrival date before or at the same time of plants delivery.
3.8 Liter (1 g jug)
In stock
$62.00